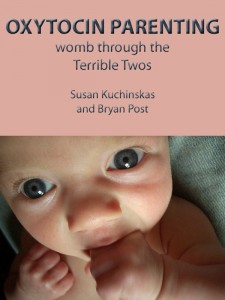 Oxytocin Parenting: From the Womb through the Terrible Twos
Oxytocin is the brain chemical that lets us love, trust and mate. Did you know that you actually shape your child's oxytocin response with your parenting? His or her ability to form deep connections with other people depends on the earliest experiences, beginning in the womb.
Oxytocin Parenting is an approach that helps you use your natural inclinations to create a warm, safe connection with your baby and, as she grows, shape her neural connections so she learns how to love and trust appropriately and safely.
You will learn to parent softly in a way that feels good to you and to your child. If you're thinking about getting pregnant, expecting or raising a baby or toddler, then Oxytocin Parenting is for you! Buy the ebook on Amazon or on iTunes.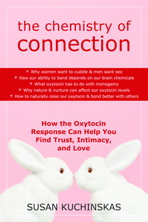 The Chemistry of Connection: How the Oxytocin Response Can Help You Find Trust, Intimacy and Love
Oxytocin is nature's love drug. Learn how to harness its power to give and get the love you need.
The Chemistry of Connection synthesizes cutting-edge research from biology, psychology and sociology to show you how to form deeper, longer-lasting connections with others. You'll learn how to power up your body's natural oxytocin response to improve your emotional satisfaction and physical health. Find out more at www.ChemistryofConnection.com.